Community Outreach Matters to MSP
We recognize we are part of a bigger community. And that emboldens us.
MSP ownership and staff have a firm belief that we are all a part a bigger community. As part of our corporate focus, we take every opportunity to "give back" to churches, schools, and families in need. We have been blessed by many of the businesses we support to be a facilitator in dispensing quality equipment to targeted organizations where these
PCs, notebooks, and printers can make a real difference in peoples' lives. We strive to look at the "big picture" and be a good corporate neighbor that can be counted on.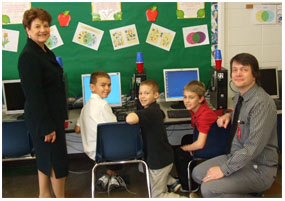 Plumstead Christian School was the beneficiary of over 200 PCs and flat panel monitors donated by First Niagara Bank. MSP collected the equipment from FNFG, prepped it, and delivered it to the Plumstead Elementary and High School. The beautiful nearly new computer equipment is "living a second life" in a vital education role. Additionally, Warrington Fellowship Church in PA and Mariner's Bethel Methodist Church in Bethany Beach, DE regularly received PCs as donations from MSP, which are donated to women's shelters to help those in need